At the start of 2021, the COVID-19 pandemic is still ongoing. Although travelling is basically restrained internationally, and only limited possible within Japan, Nohoho will publish a series of background articles about travelling to Ishigaki and Okinawa. Rather than providing concrete suggestions for shops or companies, the articles focus largely on general, non-partisan information from a broader perspective. Hopefully, it will provide insights to those who plan to travel to Okinawa and Ishigaki once the situation allows, or to those who do manage to travel to the islands within the current situation. All information is the personal view of the author and the author underlines the importance for travellers and locals alike to follow the local guidelines against virus prevention. The first article is about food. A PDF version with additional information and an useful phrases section can be accessed by clicking this link: Nohoho – Eating (out) in Ishigaki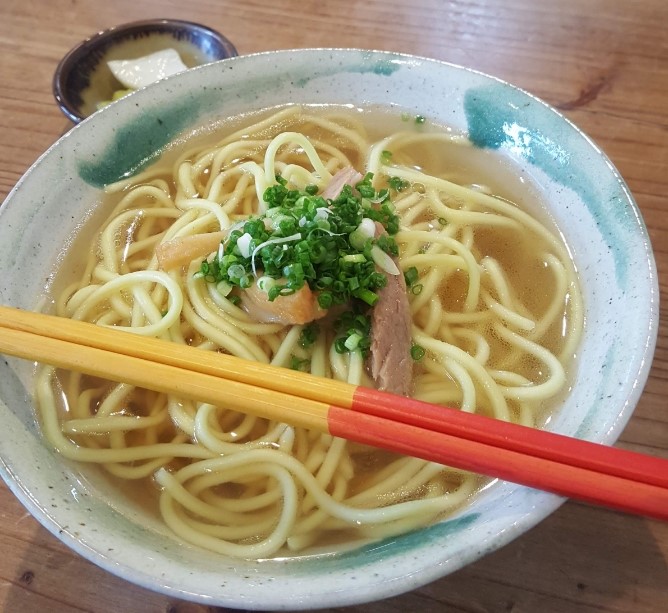 For foodies, or for those, who are simply into having a meal, Ishigaki island offers a wide range of restaurants and different types of foods and drinks. The majority of the establishments are located in the downtown area of the island, but several restaurants can also be found on the south side of the island, in and around Kabira- and Yonehara areas, plus some others scattered around the island. This article will not directly introduce names of shops, but it aims to provide some additional information to enhance any gourmet experience on the island, especially for non-Japanese speakers.
Originally part of volcanic mountains and with a subtropical climate, Ishigaki island is blessed with fertile soil and plenty of both sunshine and rain. On land, various products are grown, while the surrounding ocean offers marine delights. The richness of the island is reflected in the variety of dishes offered at restaurants through typical local food, or through cuisine from other regions in Japan and countries, yet still using largely local ingredients.
To get an idea of what the island has to offer during the relevant season, a visit to the JA Yurachiku Farmers Market or the Public Market in the Euglena Mall, both in downtown Ishigaki, will give a good impression on what products are available. You will find all kinds of vegetables here, largely all grown by small farmers on the island. For those living in mainland Japan or, like the author, originally from Europe, there are a lot of unknown products. They probably show more similarity to items from Southeast Asia than with Japan. If you have a rental car and drive around the island, you might also bump into unmanned stalls where fresh produce is offered that can (and should) be paid with small cash in a little box.
On top of various vegetables, the island also has a significant line-up of locally produced fruits. With several kinds of pineapple being farmed, they are now available almost year-round. Mango is also definitely a favourite during the season (July-August), while other fruits include papaya, passion fruit, dragon fruit, lychee, guava, local shima banana, and not to forget Okinawa's popular shekwasha citrus fruit.
In addition to veggies and fruits, also several types of herbs are grown on the island. Some include commonly known kinds like mint or coriander. Others are more local such as chomeiso or longevity grass, which – as this naming suggests – means long-life grass, and it is believed to contribute to living long, and healthy. One spice worth mentioning here is so called long pepper, or pipatsu as it is called in one version of dialect. Its taste is a combination of pepper and cinnamon and it is said to contribute to burning… body fat.
Meanwhile, the ocean has its offerings of its own, starting with local salt, said to be rich in minerals. Ishigaki and the surrounding islands are however also famous for tuna and seiika (diamond squid), and if you are lucky to visit during winter: kuruma ebi prawns. Fresh or dried aasaa (dialect for sea lettuce, aosa in Japanese), which is often eaten as tempura, or mozuku seaweed are other nutrient blessings from the ocean.
Non-vegetarian readers will however question: what about meat? Judging from a quick drive around the island, it will soon reveal that Ishigaki is indeed rather famous for the local bred Ishigakigyu or Ishigaki beef. The branded Ishigakigyu beef is one type, but there are also other brands on the Yaeyama islands such as Misakigyu beef. A favourite to eat beef among locals and tourists alike is the yakiniku BBQ. However, it is definitely worth trying out other types of beef such as beef nigiri sushi, hamburger, sukiyaki, beef soba noodles, and much more. It is worth noticing that – in general – local cows are raised in open farms, and would be qualified as, let us say, happier cows, in comparison to their relatives that end up in the bigger industrial meat market.
Other meat products include pork (buta) and goat (yagi), the latter being eaten in yagijiru goat soup or for the adventurous raw as yagi sashimi. Recently local farmers and meat shops are introducing different types of meat and ways to eat them. Although the author can not give a 100 percent guarantee, the goats would usually also qualify as happier goats, living a rather free life until, well, the moment comes. 'Happiest' animals are most likely wild boars (inoshishi) eaten throughout the Yaeyama region including stir-fried chanpuru or with Yaeyama soba noodles.
Like the rest of Okinawa, tofu is also an important part of the local food culture and offers options for vegetarians as well. It is however recommended that persons preferring a vegetarian diet check well with the shop owners, as sometimes animal products are used e.g. in broth or lard for cookies, which not all staff working in the catering industries considers as non-vegetarian.
Food tends to be better enjoyed with drinks and in Ishigaki, the best recommendation for alcoholic drinks is the locally brewed spirits awamori. Famous throughout Okinawa, each island often has one or several breweries where this drink is made. Ishigaki has several companies that have quite a long history in making awamori. Why not ask the owner of the restaurant for his or her recommended awamori? The brewery of Shirayuri is worth mentioning in particular, as it has a distinct taste creating both fans and less enthusiastic drinkers. Awamori tends to match well with local dishes. Should one visit a restaurant of other Japanese or international cuisine then shops are now also offering different types of beer (including local craft beer), wines, Japanese sake and sochu, etc.
All these local ingredients finally end up into dishes such as the local Yaeyama soba noodles, stir-fried champuru dishes, tempura, sashimi and sushi, and way more. If you have a chance, do also try the black ikasumi noodles or rice, using the ink from squids. You might have a laugh after when smiling and revealing black teeth. Another highlight might be somen noodles, thin noodles using gently fried in sesame oil. The dish is simple, but requires the perfect timing, as the noodles should not be too hard, nor too soft. It is said that, whether to marry into a family or not, would depend on a young lady's ability to prepare this dish.
So where to eat all these delights? In general, a search on one of the established websites will give good suggestions for a satisfying meal. Although the top restaurants are indeed good, it is definitely a good idea to also try restaurants that do not rank high on one of the sites. The island still has a number of hidden gems, be it through wonderful food or an authentic service. The less popular restaurants might not be used to serving foreign customers and appear to be a bit clumsy, or may seem even rude at first glance, but in most cases, the shy character of many islanders is the reason and behind their perhaps unusual behaviour is heartfelt hospitality. A quick inquiry with the staff of your accommodation might lead you to interesting discoveries or a truly local experience. If you encounter other travellers or locals e.g. when enjoying drinks at a bar, you can also ask a local or other frequent visitors for their suggestions for a nice lunch or dinner. Bon Appetit in Ishigaki!