At the start of 2021, the COVID-19 pandemic is still ongoing. Although travelling is basically restrained internationally, and only limited possible within Japan, Nohoho will publish a series of background articles about travelling to Ishigaki and Okinawa. Rather than providing concrete suggestions for shops or companies, the articles focus largely on general, non-partisan information from a broader perspective. Hopefully, it will provide insights to those who plan to travel to Okinawa and Ishigaki once the situation allows, or to those who do manage to travel to the islands within the current situation. All information is the personal view of the author and the author underlines the importance for travellers and locals alike to follow the local guidelines against virus prevention. The second article is about the weather. A PDF version with additional information can be accessed by clicking this link: Nohoho – Weather in Ishigaki and Yaeyama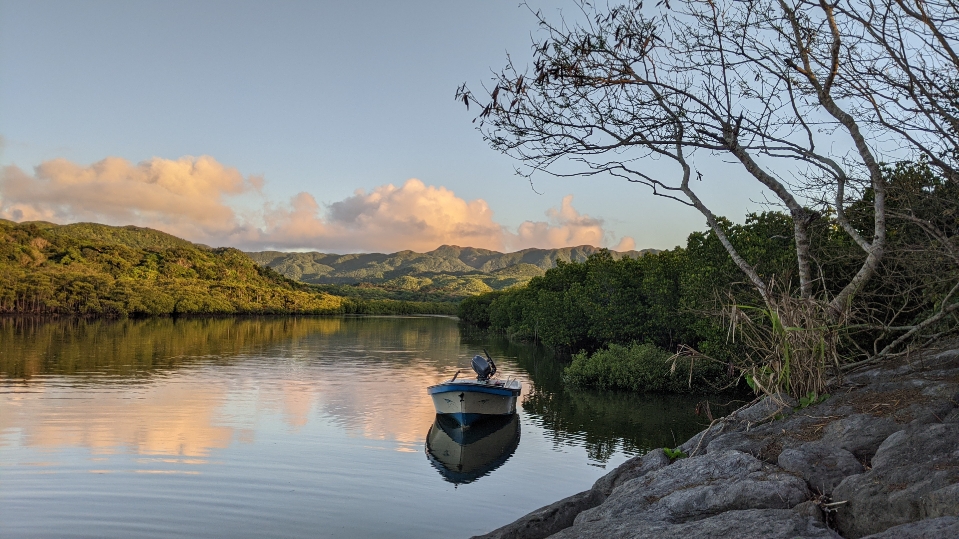 A question that many travellers to Ishigaki and the other Yaeyama Islands are often asking: when is the best time to travel? A good answer will not simply refer to the month with the best weather. Rather, depending on what you intend to do on the islands, the best season for you might be slightly different. Though tourism promotion material tends to show beautiful blue skies, emerald green or perfectly blue ocean, sandy beaches, amazing sunsets, or night skies dominated by a sparkling Milky Way, you might also want to keep in mind that some days of the year are in fact pretty cloudy, rainy and windy, not to mention the occasional typhoons. Still, rest assured, even on rainy or cloudy days, the Yaeyama Islands have a lot to offer.
The Yaeyama Islands have a subtropical climate and most time of the year, they are indeed a tropical paradise. There are in principle four seasons, although spring is a precursor to the summer and autumn is more of an extension of it. On a warm day, a dip into the ocean will be very refreshing during these three seasons. During winter, the weather conditions are different, roughly for the months December to February. One could say that the island has basically only two seasons. Or three, that is, if you add the Okinawan season of urizun, a word for the season in the months of roughly February to April that is perhaps best translated as early summer. It is slightly different from 'normal' spring, as there is no awakening from a cold winter.
The combination of a subtropical climate, a surrounding ocean, and mountains that reach up to over 500 meters does not only provide the islands plenty of sunshine, but also a fair share of wind, and very often rain. On a hot summer day, a refreshing squall is quite common, even though the chances for rainfall in the weather forecast are 10% or less. This rainfall is however a blessing for the island as it is vital for agriculture and the natural environment of the islands. Rainfall peaks in August and September. May and June coincide with the local rainy season, which often starts well scheduled right after the Japanese Golden Week holidays (End of April to May 5 depending on the calendar). However, although showers can be quite extreme, the weather in-between the showers is in general quite pleasant. The rainfall in August and September is largely due to the typhoons that are common in these two months. Depending on the strength of the typhoon, one might encounter extreme weather for a few days. Before and after the typhoons, there is however perfect summer weather. You just have to be lucky!
In terms of temperature, it does not get really cold and days below 10 degrees in January and February are very rare. On the contrary, in summer, temperatures do go up, but thanks to the sea breeze and the green surroundings it does not get as hot as mainland Japan, as one would experience in cities like Tokyo or Osaka. Humidity does play part in the Yaeyama region and might require changing shirts several times a day. However, unlike big cities, a refreshing jump into the ocean just around the corner or a breeze will help to overcome.
So, when to travel? Diving and snorkelling can basically be done year-round, especially if you join a tour using wet suits in the colder months. From November to February, the weather may require postponing tours for several days when it gets windy. If you would like to see manta rays, the best season is from September to November. For exploring the hammerhead sharks, a famous attraction in Yonaguni island, the best season is from December to April.
For careless summer fun, the best timing is from the end of April to the first half of October. This is not only excellent timing to enjoy the beaches, but also good for other activities that are partially in the water such as kayaking or canyoning. The brave ones will also be able to enjoy the sea earlier or later than this period. In Japan, it is common to mark the start of the beach season, and Okinawa is kicking-off first usually on Spring Equinox Day on March 21, but recently there are also areas where it is held earlier. This event is called umibiraki, or the opening of the beach season. Umibiraki often is performed as part of prayers for a safe beach season. Interestingly there is no closing of the season. Beaches that offer facilities like toilets and showers often start operations following umibiraki.
The Yaeyama Islands also offer plenty of opportunities for sightseeing for which high-temperatures are not a must, or rather, lower temperatures are actually preferred. Think of exploring Taketomi Island, enjoying scenic views around the islands, or glass boats for those who prefer not to get wet and still want to explore marine life. Although wind might play parts, the February to April urizun or October and November might be better timing to do sightseeing.
This would also be good timing for casual activities like renting a bicycle or going for a stroll. For more intense exercise and activities, winter is perhaps the best season in terms of temperature such as hiking, sports cycling, and running. Winter also has the advantage of fewer insects and fewer chances for encounters with snakes, in particular the venomous habu snakes. Although these sports activities can be performed year-round, the summer months of July, August, September are perhaps more suitable for those training for Iron Man-type of events. For reference, the Yonaguni, Ishigaki, and Iriomote marathons are held respectively in November, January, and February. Ishigaki's triathlon is usually held in April.
It will be useful to consider the weather not only for daytime activities but also for excursions at night. In the evenings, the weather conditions are important to consider, especially for those who visit the islands to explore the night skies of this so-called Dark Sky Park, a recognition from the US-based International Dark-Sky Association (IDA). The sky quality in the atmosphere above the islands and light pollution prevention measures have contributed to the recognition of the Ishigaki Iriomote National Park as a Dark Sky Park, the first of its kind in Japan and the second in Asia. Stargazing is generally favourable during the summer months when the skies are clearer. You might enjoy night skies after a typhoon has swept away all the air dust, making it crystal clear. Night skies can be viewed in the Yaeyama Island almost anywhere that is out of reach from urban light. However, especially on cloudy days, a stargazing tour company will be able to enhance your chances of viewing the stars, as they are most familiar with the local weather and know spots that might just have very clear skies although the rest of the islands is clouded. In summer, visitors can enjoy magnificent views of the Milky Way. From late December to June, the Southern Cross can be spotted just above the horizon. Depending on the season various constellations can be spotted; out of the 88 constellations, 84 present themselves in the Yaeyama skies at some point of time during the year. Should you not be lucky enough to see the night skies, tour companies will help you to explore other secrets of the nocturnal nightlife in Yaeyama, such as its rich wildlife. In April and May, one can furthermore enjoy the dancing of countless Yaeyama fireflies. The end of June and July is the season to spot the spectacular sagaribana Barringtonia flowers.
Now, not all things to do in Ishigaki are weather dependent. Explore the many restaurants for breakfast, lunch, and dinner, or some of the bars and other establishments for more nightlife fun. You might just as well sleep a bit longer the morning after in case the weather is indeed bad. For more suggestions on activities on rainy days, check the extra textbox. No matter how bad the weather is, the islanders will continue to shine like the sun! It is always a perfect day in Yaeyama!
*****MORE INFO*****
Wind…
A day on the Yaeyama Islands without wind is… basically non-existent. Usually, there is a slight breeze. On some days it can get a bit stormy, usually in the winter months when a northern wind will make you forget that you are on a tropical island. Damage is limited when there is a regular wind, but it might spoil your fun a bit. Tours, especially marine-related ones, are likely to be cancelled. Boats connecting some ports on the outer islands might be cancelled. Notorious is Uehara port on Iriomote Island. Still, here a bus connection to Ohara on the other side of the island will secure your return to Ishigaki. Yet for Hatoma Island and Hateruma Island, the existing boat services are the main lifeline for locals and tourists. In summer – apart from typhoons – it is not such a big deal, but during winter the islands might be cut off for days. Visitors who have a flight to catch from Ishigaki or a job to fulfil upon return will benefit to check with your accommodation or the ferry companies before heading to the islands. You will not be the first one to get stuck… Also, when the weather is changeable, it is better to have sufficient cash with you when you travel to the outer islands, as cashless payment options are increasing but remain more of an exception than a rule.
Typhoons…
There is wind and then there are typhoons. To call a typhoon a storm is an understatement. For those who live in areas prone to typhoons or hurricanes, it is not difficult to imagine what it is like. For those who live elsewhere, it will at least be a fascinating experience! Typhoons combine very strong winds and significant amounts of rainfall. As a result, floods and landslides are no exception, neither are power outages nor limited connectivity for phones and the internet. The good news is, however, that unlike earthquakes, typhoons can be relatively well forecasted, and this allows the islanders to prepare when a typhoon is nearing the Yaeyama Islands. Sometimes, typhoons are created rather suddenly, though current technology generally helps to predict in advance (e.g. the site windy.com). Ahead of the typhoon, locals stock up food, drinks, and water, and prepare alternatives like portable gas stoves to secure cooking. During the typhoon, everyone knows that staying inside is the safest alternative, or occasionally, search shelter in designated locations like schools or community centres. The biggest chances for typhoons are in August and September, but since they have a flexible schedule, they might occur earlier or later. The best way to overcome a typhoon is to act like the locals and accept the situation as it is, staying inside. Staff at your accommodation facility will be able to provide you with updates and advice. If you plan to travel to the outer islands during August and September, it will be better to check before going there as well as during your stay whether typhoons are in-the-making or on their way. Boats are likely to be impacted during and after a typhoon. Air traffic is also impacted during the typhoon, but resumes fairly early, while airlines might schedule additional flights when a typhoon is approaching to get tourists who wish so to get out of the islands in time. Once a weather warning is issued, it usually implies that there are no cancellation costs for flights and hotel reservations.
In a nutshell: tips for rainy days in Ishigaki and other Yaeyama islands…
Outdoor sightseeing – this may not sound logical at first, but sceneries like the jungle of Iriomote, the mountains on Ishigaki have their charm also in the rain. Simply dress appropriately for the relevant activity!
Indoor sightseeing is limited, but to name a few depending on your interest: Yaeyama folk museum (there are some explanations about the islands' history in English), Yaeyama Peace Memorial Museum (telling the story of the Yaeyama Islands during WWII and malaria victims as a result of the war policies), the planetarium in the ferry terminal (especially those interested in the stars), and caves.
If handcraft is your thing, several shops offer activities such as making your own seasar guardian, pottery, glass workshops, silk dyeing, traditional minsa weaving, playing the sanshin string instrument, etc.
Indoor activities include bowling, indoor swimming (public facility), bouldering, or a regular gym (they usually offer non-member one-time usage).
The Ishigaki City Library is open to the public and has a section with English books, in case you have finished reading your own books, or getting fed-up with reading books on your tablet.
Unfortunately, there is no movie theatre on the island. The Yui Theatre might have something for you, although it might be in Japanese.
The roofed Euglena Mall and its surrounding area in down-town Ishigaki are excellent for souvenir shopping on rainy days (as well as on sunny days).
For those staying in higher-level accommodations, stay inside, read a book (or write one in case you encounter bad weather for a few days in a row) and enjoy the service that you have paid for. A day without sightseeing or activities will give you relaxation. For those, who opt for budget accommodation: restaurants in many hotels are also serving non-staying guests.
Talking about relaxation, the island offers several massage parlours and beauty spas. Few hotels open their large bath facilities to non-staying guests against a fee.
Finally, driving on a rainy day! Most of Ishigaki's spots are, of course, most beautiful when it is sunny with blue skies, but spots such as the lighthouses in Hirakubo and Sakieda will offer dynamic views also when it is windy and rainy. Roads into the forests or jungle will present a scenery on rainy days that are both beautiful and mysterious. Do be careful when there is extreme rainfall as water might pill up on the street or cause landslides near hills and mountains…
*****END****